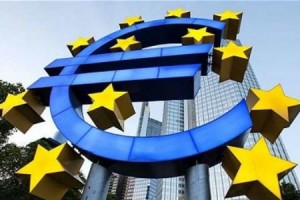 Euro-Zone Economy Shrinks, from WSJ by Ilona Billington
The euro-zone economy contracted in the fourth quarter of 2011 for the first time since the second quarter of 2009 as nine of the bloc's 17 member states posted a fall, underscoring forecasts for more of the same in 2012 as fiscal austerity continues to bite.
Gross domestic product across the 17 countries that share the euro contracted 0.3% in the final quarter of 2011 compared with the third, and grew 0.7% compared with a year earlier.
Germany GDP fell 0.2% from the third quarter and 2.0% from the corresponding period a year earlier. All figures were adjusted for price, season and the calendar.
Italy's economy contracted sharply in the fourth quarter, shrinking 0.7% from the previous three months and marking its second straight month of contraction.
The French economy proved among the most resilient, registering a 0.2% growth rate in the final period of 2011.