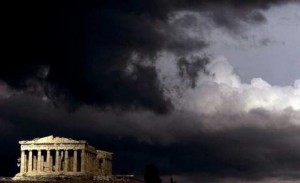 Finance Minister Says Euro Zone May Refuse Athens a Fresh Bailout If Nation Can't Enact Reforms.
Germany's finance minister issued an unusually blunt warning that the euro zone might refuse to grant Greece a fresh bailout, pushing Athens into default unless it persuades Europe it can overhaul its state and economy.
"Greece needs to decide," Wolfgang Schäuble said in an interview with The Wall Street Journal, when asked whether the euro zone would grant or withhold the second bailout package for the country since 2010, expected to be in excess of €130 billion ($172 billion).
Europe is "prepared to support Greece" with the new loan package, Mr. Schäuble said, but he warned: "Unless Greece implements the necessary decisions and doesn't just announce them…there's no amount of money that can solve the problem."
Abstract from WSJ article by Marcus Walker, William Boston and Andreas Kissler