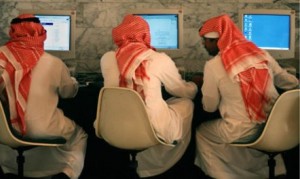 The Arab Spring threw the Internet in the Middle East and North Africa into the limelight. The net hadn't previously featured much in the narrative of the region. Now it was being credited, rather generously, with helping bring down entire regimes.
Currently, for a region that is awash with cash, the Internet economy is tiny. According to figures published by ArabNet, Turkey has half the number of Internet users as the whole Middle East and North Africa region. Yet Turkey's e-commerce market, at around $12 billion, is roughly three times that of the MENA region. So what is holding the region back?
Rashid AlBallaa, CEO of N2V.com, a Saudi-based firm of venture capitalists, points to a lack of maturity.
As well, shipping goods can be prohibitively expensive because of import duties. "In the United States you can ship anywhere," said Omar Christidis, the founder of the ArabNet conference. "Here you could be charged customs that are the equivalent of the price of the product."
And even if you can ship the goods, getting paid and then delivering them are challenges that more complex here than elsewhere. Credit-card penetration is low. According to Ahmed Alkhatib—CEO of MarkaVIP, a site that sells high-fashion items at greatly reduced prices, and which landed the largest VC deal in the region last year—85% of sales are cash on delivery.
Abstract from WSJ