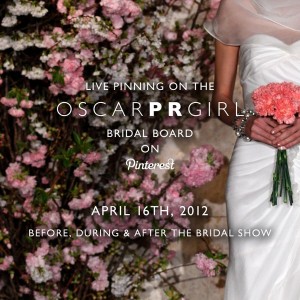 Oscar de la Renta is drawing attention by using Pinterest to share photographs of its bridal show with followers in real-time monday.
Oscar de la Renta's team began "live-pinning" photos of show preparations to a designated bridal board on its branded account Sunday evening.
Of the decision to use Pinterest to promote the show, Alex Bolen, CEO of Oscar de la Renta CEO, admitted that it was a last-minute idea, but that it did align neatly with the company's goals to constantly experiment with visually oriented forms of social media.
When asked if Pinterest had become a significant driver of referral traffic or sales on the brand's website, Bolen said that the company is unable to draw a direct correlation between activity on Pinterest and ecommerce activity. But that's not the goal, he added. "As with all of the experiments we try here, we want people to spend time paying attention to us, not our competitors."
He added that the company is collaborating on a project with Fancy, a Pinterest-like startup with a more ecommerce-oriented business model, that may focus more directly on sales.
Source mashable.com